Hi,
I'm experiencing inconsistent behavior when playing Flash templates.
As you can see in the attached screenshot the template I trigger on layer 1-20 has large amounts of 'late-frame' spikes. Causing delayed/non-smooth stuttering playback. Re-triggering the template on that same layer will play fine, until I clear the layer or channel. But: this doesn't happen every time!
When initializing the Flash producer by a load command, as I did on layer 2-20, wait for a few seconds and then play the layer, everything is fine.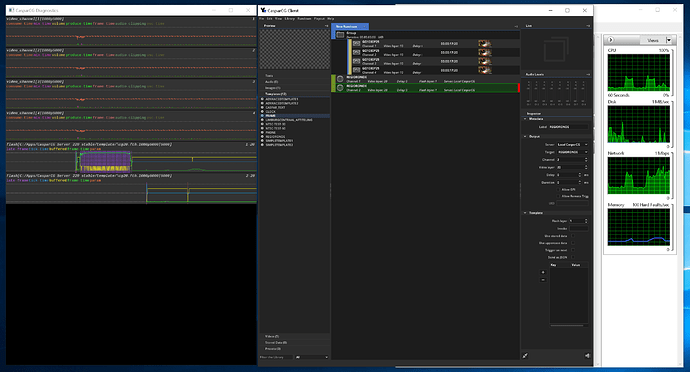 I'm running more complex templates on older/slower machines, mostly 2.0.7 and Win7, without issues and without loading first. That's concerning me.
Things I've checked:
Firewall/antivirus is disabled
Fill/key video playback is fine and always in sync
Lowering the number of channels doesn't help
All power saving settings in both Windows and BIOS are disabled
I'm running 2.2.0 stable on a Win10 Enterprise, Intel XEON 2136, Quadro P4000, 32GB ECC RAM, 2x Decklink Duo 2 (2x key/fill on card 1, 2x fill-only on card2), Samsung Pro NVME drive.
All help is welcome,
Bart