Dear all,
I'm working with CasparCG for a long time now.
I have build my own client in Visual Studio for playing out graphics with data.
I previously did run it with version 2.0.7 and now i'm running in the stable 2.2.0 version.
I'm using Flash templates.
For a few weeks ago i did an reinstall on my graphics machine and updated from windows 7 to windows 10. And since the update i ran into weird problems where i get late- and dropped frames at totally random times. I can start the same template, with the same data, and the same function from my client where sometimes it works perfectly smooth, and sometimes it's lagging like hell.
I'm using an Intel XEON E5-1620, 32GB of ram, and a SSD for the templates which is running on a smooth 10% (CPU) usage when operating everything. When the spikes happen, it goes to a small pike from 25% usage. This usage comes from the CasparCG server. The client in visual studio is running really stable.
This is the diag from the server, with red circles where the spiking happens.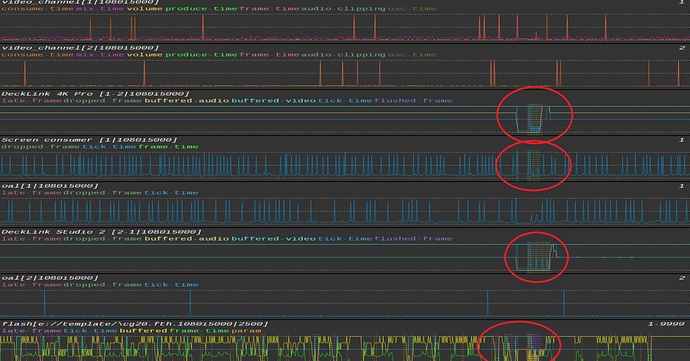 I'm out of options where to look and would really like to know some options where i can start looking.
I think the problems starts with Flash, which is really unstable. But i don't know how to check it.
Kind Regards,
Hylke Wolfkamp