Hi there!, I want to wish to being my own Master Control Room which would fit into my Bedroom :-
1st Phase : A Basic Amateur TV Paraphernalia, Here is the image given below.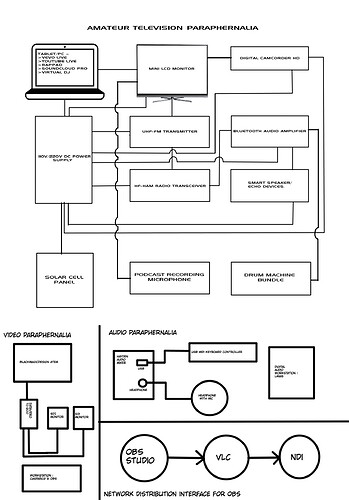 At the Beginning, DC Power Supply is the Only Epicenter of All Devices Which Includes LCD Monitor,
Digital Camcorder, My Laptop, A Solar Cell Panel , fitted at the Top of the Terrace; UHF-FM Transmitter DIY ; HF-Ham Radio Transceiver, A Bluetooth Audio Amplifier, Smart Chatbot Speakers Like Amazon Echoes, etc., which would Provide an Transmission of Power Supply.
Subsequently, the Second, The Drum Machine has a Linear path to, Bluetooth Audio Amplifier, HF-Ham Radio Transceiver, UHF-FM Transmitter DIY and to Directly the LCD Monitor.
Then the Last Cherry on the Cake that LCD Monitor is Well Connected to all Three Devices With one Output Device as Laptop and two input Devices as Podcast Microphone and Digital Camcorder
2nd Phase : An Audio and Video Paraphernalia, Here is the another image given below
NOTE : Don't Bother about OBS Studio, i'll Just ask From another forum which belongs to OBS Topics, Right
At First , A Video Configuration :
I would put Forward Evidence that, BMD ATEM HDMI Output is Connected to Datavideo TC-200 Input Through HDMI-HDMI Cable, and Furthermore, the Both SDI Cables From Datavideo TC-200 for
Fill and Key is Connected to Both the SDI Screen Monitor. The Workstation Would be CasparCG.
And Secondly, An Audio Configuration :
A Hayden Audio Mixer has USB Port and Headphone Port, The USB Port is Connected to USB MIDI Keyboard Controller, and For Another Port is Call Center Headphone With Mic of JABRA or Whatever Brand which is used by E-sports Gamers. The Digital Audio Workstation is LMMS, it is Also Suitable which I Mention in Second Phrase of First Phase given above.
Please would you suggest that, these Paraphernalia could be run and Achieved by CasparCG Client and Server, Any Alternation to My Stuffs, So That you can find another suitable Solutions and How much it would Cost it , pls note that I'm Using Windows not MAC OS, I am outside of Europe, tell me that what List of Items to be Preferred or Not ?
Thank you, Have a nice day !