Hello guys,
I wanted to try latest 2.4.0 version.
After doing some tests, and comparing with functions in 2.0.7 version, I saw that 2.4.0 has bigger CPU usage than 2.0.7
This shows usage when 2.0.7 is active

And this shows usage when 2.4.0 is active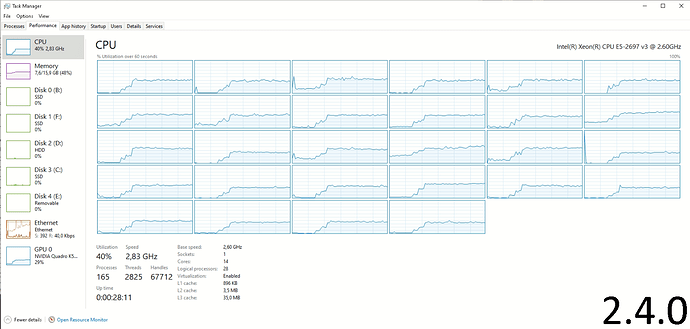 In both versions, I had this:
2 x Screen Consumer 1080i5000
6 x Channel 1080i5000
2 x NDI OUT
3 x Decklink input
2 x Decklink output
Without Decklink inputs, CPU usage can go bellow 10%, so it takes ~10% per Decklink input. There is no any conversion enabled on Decklink Duo card.
Do you know what can increase usage this much, even with newest driver?
If I additionally play some files, add CG templates, out stream and record 2 libx264 files, in 2.0.7, usage is bellow 60%. In 2.4.0, it goes 80-100%.
First time when I tried 2.1, later 2.2 I remember it was more optimized than 2.0.7 and had much lower usage.
I am not sure if I'm doing something wrong. Is there any reason for something like this?
Thank you very much.