Hi, guys, sorry for my poor English.
I've been digging CCG performance for a very lone time because my needs are kind of special (very very intensive, just not able to do it with CCG on a 128 core computer

)
CCG is a very useful software, so I don't wanna give up it.
I've read all forum topics that related to performance,
From what I learned, CCG has two factors that cause performance issue
1 some limitation of CPU usage (like threads)
2 no GPU decoding
for factor 1, you may find that you are not able to play a video smoothly by CCG (4K samples from internet)
there is an solution for it
https://github.com/CasparCG/server/issues/1281
4K video replay should be fine
but still, if I push more, like "VF" filter, it will by laggy while CPU usage still very low
I tried to play it with FFMPEG, it will cost much more CPU but played well
which means there is still some kind of limitation inside CCG that prevent me to use enough CPU, I can't find what that is, tried a lot edition in the code, not working
and later today, I figured a workaroud which can also fix factor 2
simplely process:
convert video source to ndi source–>add ndi souce in CCG
since I don't have ffmepg with ndi build, I tried using ndi tools
play video source as full screen oin screen 2–>use ndi tools to convert screen 2 into ndi source–>add ndi source in CCG
this is playing a 4K video directly inside CCG, 31% CPU usage


this is playing a 4K video on screen, convert into ndi, play ndi source in CCG, 19+1+0.5 CPU usage

so, saved 10%
and if you play video on two layers, you will be saving 30%…even wihtout GPU decoding, you still save 20% usage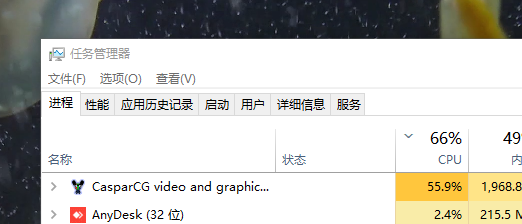 besides save CPU usage, the key point is that you now can actully use any FFMPEG capable source/parameters with CCG. some are not supported in CCG currently(like GPU decoding), and more producer
and a little note: you don't actully need a real screen for that, just have GPU output ports(like hdmi), you can buy a little cheater hdmi thing that cheat your GPU you've connected it to a monitor, its about $2 each.
hopefully, this could help ppl with simlar problem using CCG